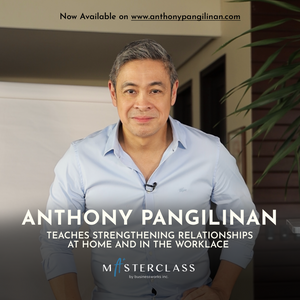 * Price applied is 1 download per student/user. Access to the course is on a per individual basis.
This Masterclass is specifically designed to enhance the participants' work, home and community relationships.

It combines the need to value oneself and to reflect on areas of improvement from the quality of every other connection is dependent on. It deals with mindset, attitudes and skillsets foundational to positive and productive relationships with others.
Through the impactful and thought-provoking videos, interactive and user-friendly workbook and practical applications and exercises, participants are equipped to better value and work with connections necessary for a meaningful life.

Whether the course is taken in one sitting, throughout an entire day or spread out over several sessions in a month or so, be a witness to positively transformed lives, starting with your own with this Masterclass.

Media practitioner and BusinessWorks' "Chief Disturber" Anthony Pangilinan draws from training and leading opportunities in over 50 countries the past 3 decades, apart from his own studies and practice as a parenting coach and speaker, and a community development advocate in the Philippines. A former AIESEC International world president, Anthony holds an Executive Master in Business Administration from Tsinghua University in Beijing and INSEAD Business School based in Fontainebleau and an Executive Master in Change degree from INSEAD in Singapore. He is currently taking his doctorate in Communications at the University of the Philippines in Diliman.

KEY COURSE MESSAGES
1. Remember your Humanity!
2. Engage with your Total Being— Mind, Body, and Spirit!
3. Loving others by doing what is best for them, even if it hurts.
4. Allow relationships to prune you and perfect you over time.
5. Take Time to Listen to others and to yourself in the process.
6. Enjoy the relationships that you have— be thankful for what and who you have.