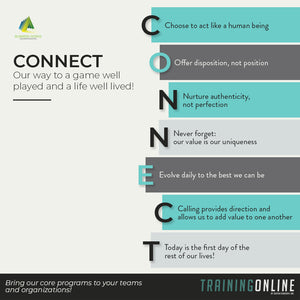 Our core training programs are now available to be conducted online through video conferencing tools and downloadable materials. This is available to individuals who are part of a larger group, corporations, and organizations who seek innovative ways to continuously lead and motivate their team towards maximum productivity.

CONNECT: Our way to a game well played and a life well lived!
Choose to act like a human being
Offer disposition, not position
Nurture authenticity, not perfection
Never forget: our value is our uniqueness
Evolve daily to the best we can be
Calling provides direction and allows us to add  value to one another
Today is the first day of the rest of our lives!